MONTE CORVO: in the Bocca di Tifeo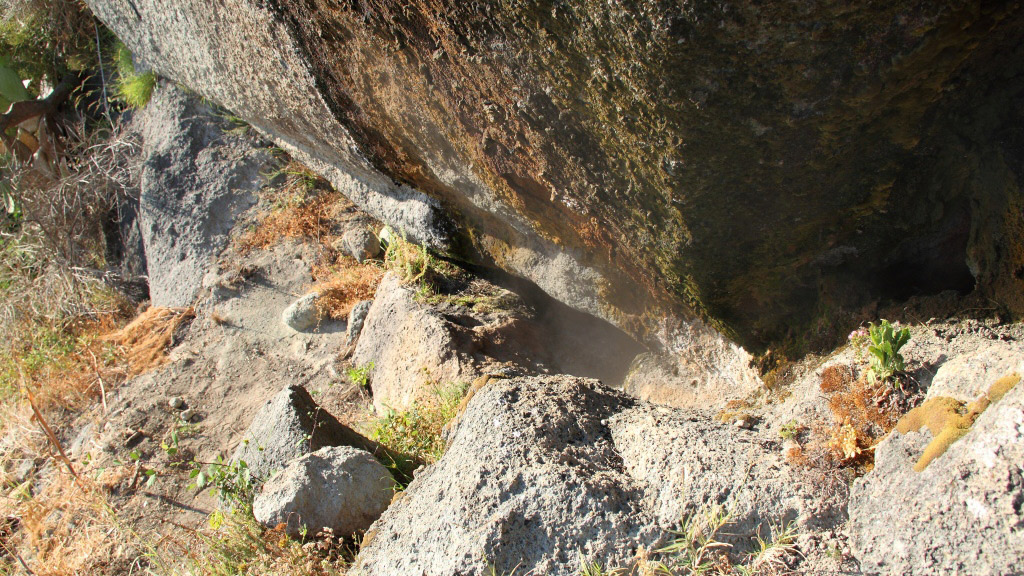 Departure from the headquarters of the Pro Loco of Panza, where through a road, which runs through the center of the hamlet, we start towards the upper part: Monte Corvo.
The stretch is full of signs that testify to the rural traditions of the place: stone houses, parracine, ancient cisterns of water dug into the soft tufa rock, vineyards.
The rock is certainly the element that most characterizes this place: it bears witness to a tumultuous past. The large tuffaceous boulders rolled from Mount Epomeo have been renamed by the peasants: Pietra Brox, Pizzo del Merlo, Pietra Martone.
Continuing the ascent, the road gives way to a path completely immersed in the wild Mediterranean Macchia (holm oaks, lentisks, heather, myrtles and aromatic herbs).
After a while the ascent becomes steeper and the soil warmer: the Mediterranean undergrowth leaves, leaving way to a more exotic vegetation (prickly pears, agaves), until it meets the myth of the island of Ischia "Tifeo", which lies in the bowels of the island and whose tears flow into the thermal waters. In Monte Corvo these have taken the form of watery vapors.
The return road winds through the village of Monte Corvo, where it is still possible to find traces of the old settlement obtained from the large tuffaceous boulders in a perfect synergy between natural and anthropic elements.
Info
Duration: 4 h
Difficulty: T / E
Difference in height: 200m
Maximum altitude: 400m
Departure: Panza (Pro Loco) 16.00
Arrival: Panza (ProLoco)
Itinerary: Panza, Arimei Gardens, Monte Corvo, Fumarole di Monte Corvo, Panza (Pro Loco)
Equipment: trekking shoes and clothing, water.